Ansar Battalion Job Circular 2023 has been published. As per the new recruitment of Ansar Bahini 2023, notification regarding recruitment of 23rd Batch (Male) Battalion Ansar, find out when the online application process will start from the following date.  Today I will tell you all the details including how to get a job for Ansar Battalion job and how to fill online application form. It has been informed that this appointment will be given in the 23rd batch (male) of Ansar Battalion.
Ansar Battalion Job Circular
Bangladesh Ansar is a paramilitary force known as Ansar Bahini. The job has to be renewed every 5 years after joining Bangladesh Ansar Bahini. This force is responsible for the internal security of Bangladesh. The Ansar Battalion enjoys the same advantages as all other government defenses. It is managed by the Ministry of Home Affairs of the Government of Bangladesh. Numerous Ansars are recruited in Bangladesh every year, visit our website regularly to know all the updates.
Application Published Date : 15 September 2023
Organization: Ansar Battalion
Job Type : Government Jobs
Age Limit For Jobs: See The Circular
Total Post Details: 500
Application Fee : 112 Taka
Educational Qualification: See The Circular
Source : ebdpratidin/   Online 
Official website :  www.ansarvdp.gov.bd
Salary : 9,300 – 22,490 Taka
Application Start Date: 16 September 2023
Job Nature: Full-time
Application Closing Date: 30 September 2023
For more information see below this original circular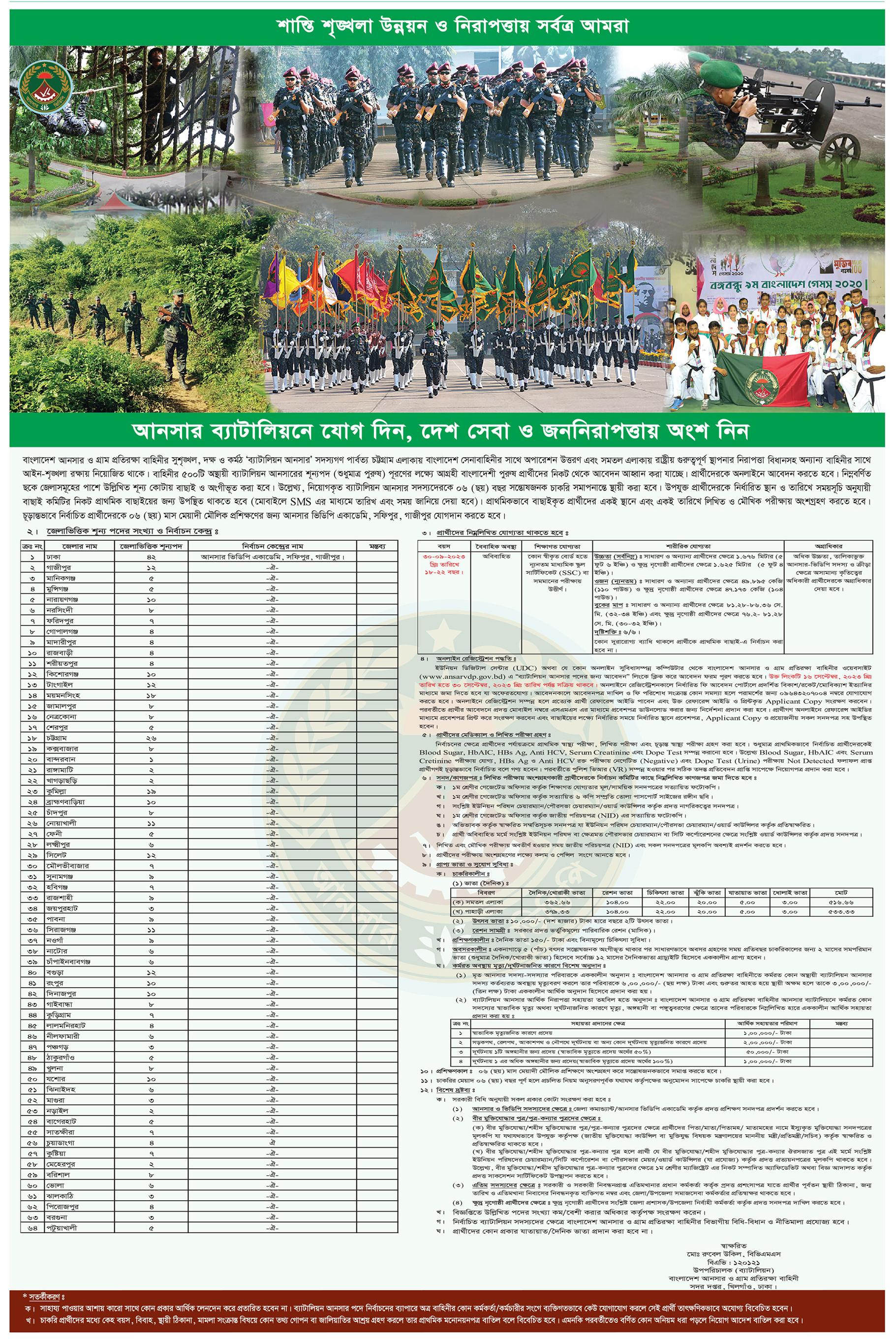 Official Circular Link: Click here to see the Official Circular Notice
অনলাইনে আবেদন ফরম পূরণ
আবেদনের সময়সীমাঃ
আবেদন ফিঃ অফেরৎযোগ্য ২০০/​-​টাকা আবেদন ফি। আবেদন ফি দিতে হবে অনলাইন আবেদন করার সময়। চলুন আবেদন প্রক্রিয়া জেনে নেই।
প্রয়োজনীয় কাগজপত্রঃ যাচাই-বাছাইয়ে অংশগ্রহণের সময় যে সব কাগজপত্র সঙ্গে নিতে হবে তার লিস্ট নিচে দেওয়া হলো।
শিক্ষাগত যোগ্যতার মূল সনদপত্র;
জাতীয় পরিচয় পত্রের মূল কপি;
চারিত্রিক সনদপত্রের মূল কপি;
নাগরিকত্ব সনদপত্রের মূল কপি;
অনলাইন রেজিস্ট্রেশন ডকুমেন্টের মূল কপি;
উপরে উল্লিখিত সকল ডকুমেন্টের সত্যায়িত ফটোকপি;
০৪ কপি পাসপোর্ট সাইজের ছবি (সত্যায়িত);
পরীক্ষায় অংশগ্রহণের জন্য কলম, পেন্সিল, স্কেল ইত্যাদি।
Bangladesh Ansar VDP Job Circular & Result 2022 – www.ansarvdp.gov.bd
About Ansar Battalion
General Ansar Recruitment 2023 Circular, one of the affiliates of Bangladesh Ansar and Village Defense Force. A total of 5,096 trained General Ansar members are presently affiliated to 4,636 organizations. The members are providing security to important KPIs such as airports, seaports, power stations, industrial and commercial establishments, hospitals, educational institutions, traffic control in the metropolis, naval and other public transport railway stations and other public and private installations. By taking basic Ansar basic training you can become a proud member of Ansar Bahini.
Many Candidate search for Ansar Battalion Job exam date, admit card download notice etc, on Google. We are capable to provide for your all information about this Any Company jobs, NGO jobs, Bank Jobs, Health Jobs and Government Jobs by our website. wherein online registration will be complete applicant can be able to download there admit card through Ansar Battalion Job Board official website.
To get Daily Jobs, Any Company jobs, NGO jobs, Bank Jobs, Health Jobs and Government Jobs circular Continue with our website and share our post to your time line. You be able also able to conglomeration with us on our Facebook Fan page. For Next Updates about Ansar Battalion Job circular , Download stay with us. My Website or comment below for further information. You can also get more notice about Ansar Battalion Job to there official website address at  https://bdansarerp.gov.bd. Hope you do all this body forget your Any Company jobs, NGO jobs, Bank Jobs, Health Jobs and Government Jobs circular from Bangladesh. Thanks for being with us.