Bangladesh Prime Minister Fellowship 2019 published at www.pmedutrust.gov.bd . Prime Minister Fellowship Scholarship for Masters & PHD Degree.PME Dutrust Gov bd Notice 2018-2019 Fellowship & Scholarship in February. Before apply you have to Download Original Prime Minister Fellowship 2019-20 Application Form. All Candidate must have to sent their Document before 14 March 2019.Maximum aid provided for 60 lakh for Master's program and 2 core for Phd program.Notification of Prime Minister Fellowship-2019 (with Application Form) & Most important information written at alljobscircularbd.com . Lets check below this valuable think before apply BD Prime Minister Fellowship 2019.
Notification of Prime Minister Fellowship 2019
Economics, Public Policy, Public Management, Public Administration, Governance, Development Administration, Legal Studies, Peace and Conflict Studies, Environmental Issues, Global Issues, Global Warming, Climate Change, Disaster Management, Power and Energy, Development Economics, Social safety Net, Project Management, Financial Management, Business & Trade, Organizational Leadership, ICT Management, Performance Management, Issues related to Policy Consultancy and Social Policy Analysis, Women and Gender, Water and Maritime, Autism, Refugee and Migration, International Relation, Infrastructure, Health and Nutrition etc.
Prime Minister Fellowship Application Process – http://www.giupmo.gov.bd
Eligibilities
Must have an unconditional offer letter (full time) from any University. 1st July 2019 to 31stDecember 2019.
University rank must between 1 to 300; The Times Higher Education World University Ranking 2019 or QS World University Rankings 2019.
TOEFL iBT result must higher 80 and IELTS score at least 6.
Age limitation maximum: 45 years (Phd) and 40 years (Masters).
See more details at official website.
 আবেদন পদ্ধতি
আবেদনপত্রটি "আবেদন করুন" বাটনে ক্লিক করে তা পূরণ করুন
আবেদনপত্রটি ইমেইল করে দিন pmfphd2019@gmail.com (পিএইচডি) pmfms2019@gmail.com (মাস্টার্স) ঠিকানায়
আপনার আবেদনপত্রটির সাথে নিম্নোক্ত নথিগুলো সংযুক্ত করে পাঠাবেনঃ

Microsoft Word এবং PDF, দুই ফর্মেটেই পাঠাতে হবে।
আপনার স্টেটমেন্ট অফ পারপাস, স্কলারশিপের উপযুক্ত সময়, আপনার প্রস্তাবিত গবেষণার সাথে টেকশই উন্নয়ন লক্ষ্যমাত্রা বাস্তবায়নের সম্পর্ক, পেশাগত জীবনে আপনার গবেষণার সম্ভাবনা এবং পেশাগত জীবনের অভিজ্ঞতা পাঠাতে হবে।
শিক্ষাজীবনের সকল সনদ এবং নম্বরপত্র।
জাতীয় পরিচয়পত্র।
TOFEL/IELTS'র ফলাফল।
শর্তহীন অফার লেটার।
অভিজ্ঞতার সনদ।
সদ্য তোলা ২ কপি পাসপোর্ট সাইজের ছবি।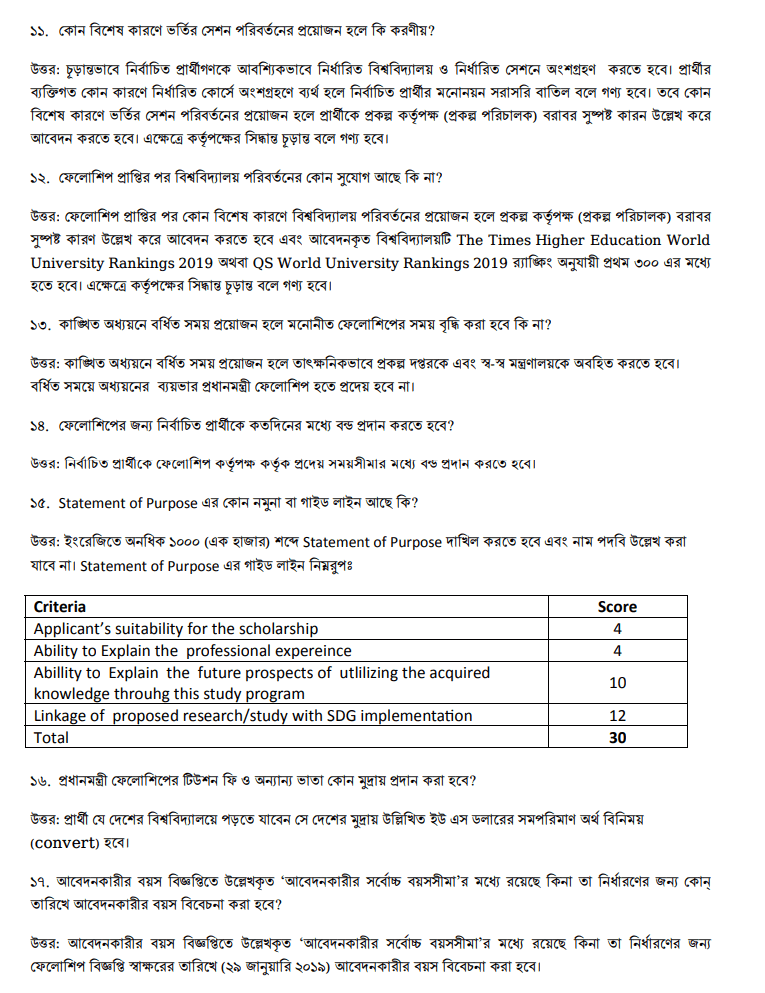 Hope you read full notice about Prime Minister Fellowship on my official website. Candidate eligibility , Apply process also found at http://giupmo.portal.gov.bd . You May download Application form below this link. And Don`t forget to apply before 14 March 2019.
Important Link