Free SEIP Training Circular 2023. Free Training Course Admission Notice in various trade. BITAC Training Circular for Dhaka, Khulna, Chittagong, Bogra and Chadpur. SEIP Training Circular 2023. Government free training circular has published. Bangladesh Industrial and Technical Assistance Center (BITAC) Free Training Admission 2023. Skills for Employment Investment Program Free SEIP Training Circular 2023. SEIP new registration circular publish every year for unemployment people. Directorate of Technical Education is providing experience certificate for applicant who has work experience but they need experience certificate. Educational Certificate is  very much important to recognition his work. Applicants can get admission in various trade and achieved their valuable institutional recognition. Government provide free training courses for Bangladeshi citizen. BITAC skills program training circular has published.
Process of Application:
1. Primary application have to submit nearest listed college
2. Applicants have to mentioned parents name, permanent address, subject etc. clearly
3. Attached copy of experience, photo etc
4. selected applicants have to get registration.
SEIP Training Facilities:
Registered Students can learn English and Arabic Language
Course period 4 month and every month 22 days class
Trainee will get Tk. 100/= for every class for transport allowance
Students will get free certificate after successfully completed course
Candidates will get hands on training. Finally successfully candidates list & result will publish on web site. www.seip-fd.gov.bd
SEIP Training Center in Bangladesh:
1. Bagerhat Technical School & College, Bagerhat
2. Chadpur Technical School & College, Chadpur
3. Coxbazar Technical School & College, Coxbazar
4. Jessore Technical School & College, Jessore
5. Kustia Technical School & College, Kustia
Now a days, experience certificate is very much require for foreign skill job. Institutional job certificate is require in Saudi Arabia, Korea, Arab Emirate, Malaysia for skill worker. To get Recognition of Prior Learning (RPL) certificate, applicants have to apply on plane paper to college principal. SEIP Information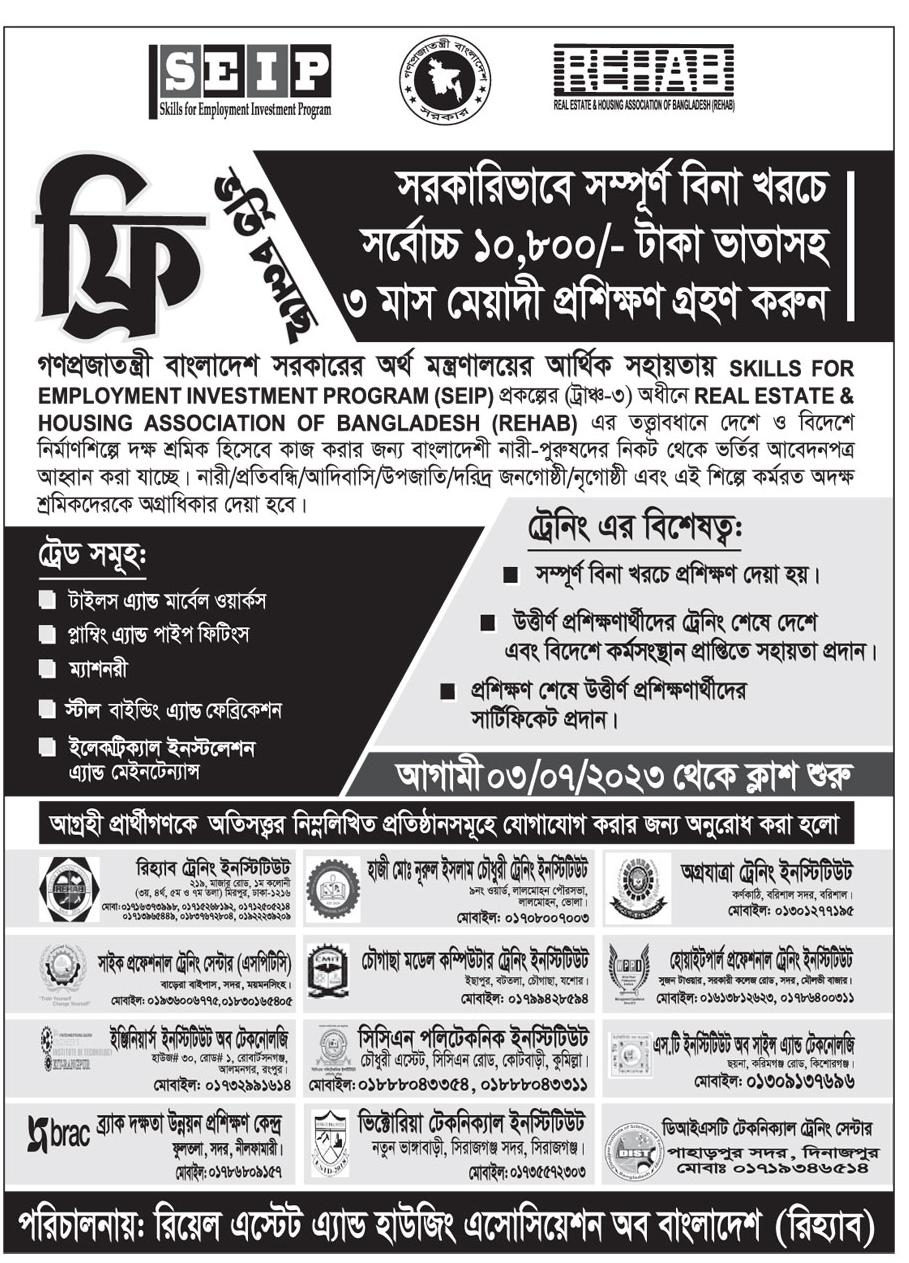 Apply Now
Free SEIP Training Circular More Information
(a) Readymade Garments and material
(b) Construction
(c) Information Technology
(d) Light Engineering/Manufacturing,
(e) Leather and Footwear and
(f) Ship Building.
Features
All the offered preparing programs are thoroughly free.
The base capability to get selected this program is Graduation or Diploma in Engineering relying upon the instructional class.
One learner can do just one preparing program under this task.
Every learner will be given BDT 3,120 every month as a preparation stipend. Be that as it may, to get this advantage, the student must guarantee participation at any rate 80% of complete classes led and submit to all the guidelines and guideline of the BITM
The assurance of Job Placement.
These preparation projects will be actualized in BITM, Dhaka branch in the first year and step by step they will execute the projects in the territorial places situated at Sylhet, Khulna, Rajshahi, Rangpur, Chittagong and Barisal.
Intrigued members are being mentioned to do online enlistment. There will be a determination methodology to get chance in these selective preparing programs.
5 Perfect Jobs for Housewives
Aptitudes for Employment Investment Program (SEIP)
Aptitudes Development Coordination and Monitoring Unit (SDCMU), Skills for Employment Investment Program (SEIP), Finance Division, Ministry of Finance, Government of Bangladesh is built up with the target of creating untalented and semi-talented work power into gainful and gifted work in need segments and to help Government establishments, privately owned businesses, non-government associations, industry expertise boards and industry relations for accomplishing this goal. SDCMU is using the assets given by the Asian Development Bank (ADB) under Loan 3131-BAN: Skills for Employment Investment Program (SEIP) to give help towards the finish of skilling 1.25 million youth by 2021 in the center segments.
Objective(s) of the SEIP Program
Improve program for skilling new contestants and up-skilling existing workforce to upgrade efficiency and development of needed industry parts;
Give aptitudes preparing connected to beneficial business or independent work through PKSF accomplices and their occupation programs just as through Bangladesh Bank Small and Medium Enterprise (SME) Department connected to employments in SMEs;
Build up a system of preparing suppliers that are supported by the industry for giving greatness of preparing to meet the aptitudes needs of bosses;
Set up and execute a system to address the exceptional needs of gatherings indicated in the NSDP and guarantee their interest in SEIP programs;
Actualize a professional coach improvement program for mentors and assessors and an administration authority program for preparing supplier the board reflecting NSDP necessities;
Fortify limit of BTEB in favoring preparing suppliers enlistment process, course accreditation, and checking quality confirmation and usage techniques of preparing suppliers;
Bolster the preparation suppliers for limit improvement to guarantee quality preparing conveyance system;
Build up and regulate a valid acknowledgment of earlier learning (RPL) framework;
Bolster the NSDC and key government services to reinforce institutional game plans and coordination to empower the TVET framework to meet strategic goals inside a rational aptitudes advancement structure; and
Bolster the foundation and operationalization of a National Human Resources Development Fund (NHRDF).
rkets. The SEIP will mobilize resources to support public and private training providers to meet emerging labour market needs. Initial six priority sectors are: